Whether you're planning a complete makeover or a small update, thinking about your backyard in a new way can really transform the way you interact with your outdoor space. You may already have an idea of what you want your yard to look like, or you might just be browsing for ideas. Whatever stage you see yourself in this process, we've put together a few trendy backyard ideas our clients often ask about when designing their own outdoor living space.
Before you begin saving your favorite ideas, an excellent starting point for any homeowner is to divide your space into different sections. Each section should serve a certain purpose or practical use. A lot of people life to refer to this process as "garden zoning".
Once you've zoned your backyard, it's time to start planning.
Here are a few ideas to get started:
Connect the Outdoors to the Indoors
We often say outdoor living spaces are an extension of the home, and we love the idea of linking your life indoors to your life outdoors. By adding hardscapes to your garden space, you allow an easy transition from your home to your backyard. Ensure your home's style is reflected in your backyard by choosing complimentary colors and designs. By keeping things consistent you can create a new outdoor room.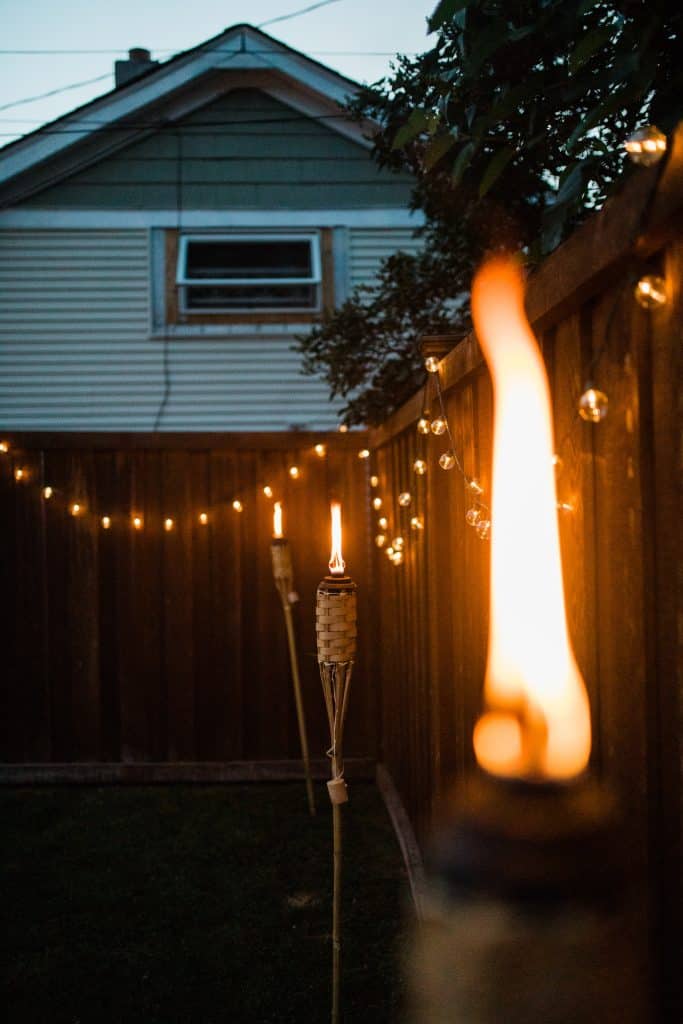 Enhance the Design with Lighting
Want to add a whole other dimension to your backyard? By simply adding thoughtfully placed lighting fixtures to your design you can create drama and ambience in your yard. Recessed lighting can highlight focal points. Lights placed throughout a garden can illuminate your shrubbery to enhance the mood. Not only do lights offer a new dimension to your space, but they also allow you to enjoy your backyard well into the night.
If you're on a budget, adding string lights or battery powered lanterns to your design is a cheaper option that still provides a warm ambience to your yard.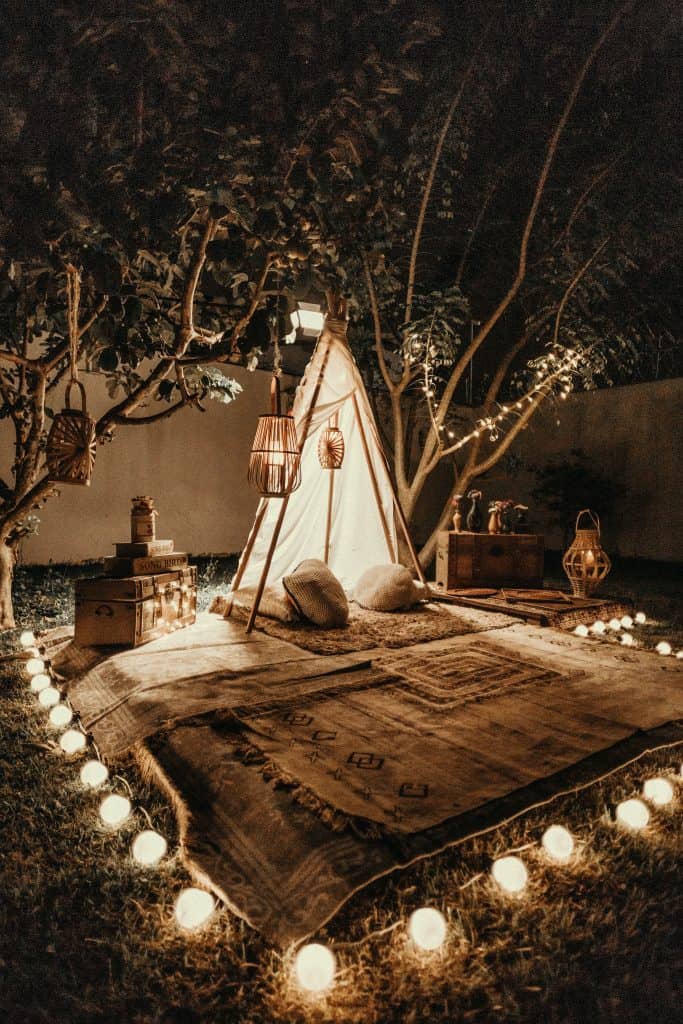 Create Privacy & Make It Cozy
An important part of creating a cozy backyard is privacy. You may never feel at ease if you walk into your backyard knowing your neighbors are staring at you from beyond the fence line. By adding trees and other tall shrubbery you can create a division that allows you a little privacy. Other options include masonry walls or screening devices.
A trendy backyard idea we love is a green plant wall. Plant succulents and other shrubbery over the area to create an earthy addition to your design.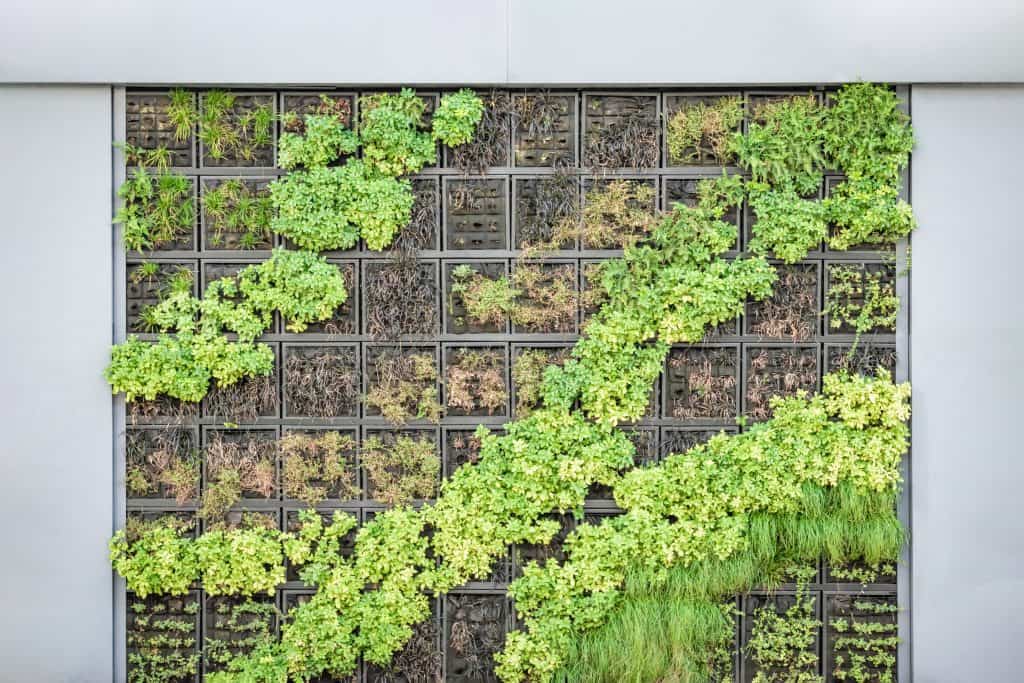 Think About Water Features or Fireplaces
A water feature can act as a beautiful focal point in your backyard. Garden ponds, pools, and fountains add a new element to your space. By integrating a water feature into your patio you can really upgrade the style of your design. Adding lighting to your water feature will also help it become a great centerpiece .
A fireplace can shift the eye and provide an equally dramatic focal point. If you're hoping to add an extra element of coziness to your space, a fire pit can do just that.
Make Space for Dining and Sitting
If you plan to entertain guests, don't forget to save some space for a dining area. Depending on how many friends and family you plan to invite to your next backyard party, you'll need to provide a table large enough for everyone to sit down and enjoy your new yard. Adding a pergola over your dining area can provide cover and privacy to this area.
Even if you don't necessarily need a dining area, you probably want to add some seating to your space. Whether it be a swinging chair, a hammock, rocker, or folding chair, make sure your seating is comfortable and durable.
Build a Backyard Theater
Perhaps the most family-friendly backyard idea on this list is an outdoor theater. DIY movie theaters can be temporary and cheap. Simply add a screen and a projector to an open area in your yard and you have the perfect Friday night party venue. If you're thinking of adding a more permanent version of an outdoor theater, consider adding speakers to your backyard and building a frame around the screen area. This frame can double as a trellis and act as the focal point to your garden theater!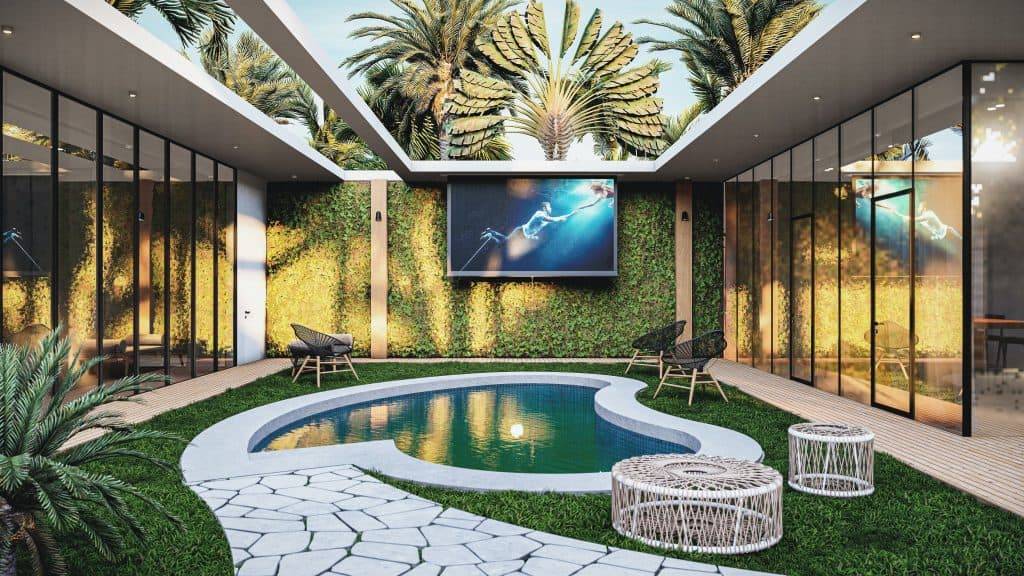 Make the space your own.
Now that you have some ideas, it's time to start making them your own. Every backyard is unique, and every homeowner's use for that yard is different. Make sure you stay true to the style and feel of your home in your design, and don't be afraid to experiment with new and bold textures.
If you need help designing your outdoor living space, let us know! Our in-house designer would be happy to put to paper (or screen!) your ideas.