A brick accent wall can enhance and warm up the appearance of your home's interior. Perhaps you've long wanted to install a brick wall in your home to enhance your living space and add character, but the task may have seemed too daunting.
That's why we've prepared this overview of the process. With a better understanding of what the job involves, maybe you'll decide to do it yourself. If you don't have the time or are still unsure you're prepared to tackle the job, our experienced masons can help you plan and install a brick wall in your kitchen, bedroom, family room, or wherever you think an exposed brick wall suits your décor.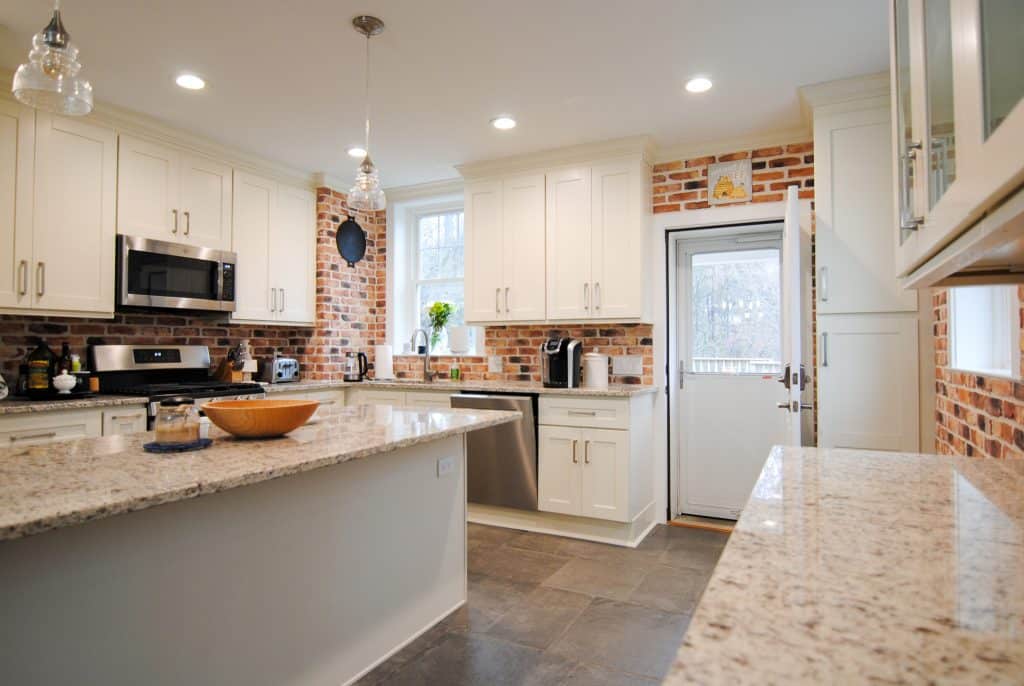 Exposed brick walls are popular
Exposed brick walls are a popular feature with interior designers and homeowners. Not only do they add intrigue and pair well with many materials, but they also add character to an otherwise blank space. The brick's imperfection adds dimensional detail. Its warm color can spice up a room, or it can be painted white for a lighter more pristine effect, or black for a more rustic impression. Today's thin brick options make adding brick as a décor feature much easier.
What are thin bricks?
Thin veneer bricks look just like a full-sized brick, but they are thinner and lighter in weight. Their lightweight structure makes it easier to install a brick wall inside your home.
Thin brick gives you an authentic brick wall look without the work of laying full-size brick. The material isn't new. It's been around for some time. It's simply a much thinner version of full-face brick.
Thin brick is available in standard, modular, utility, and Norman shapes.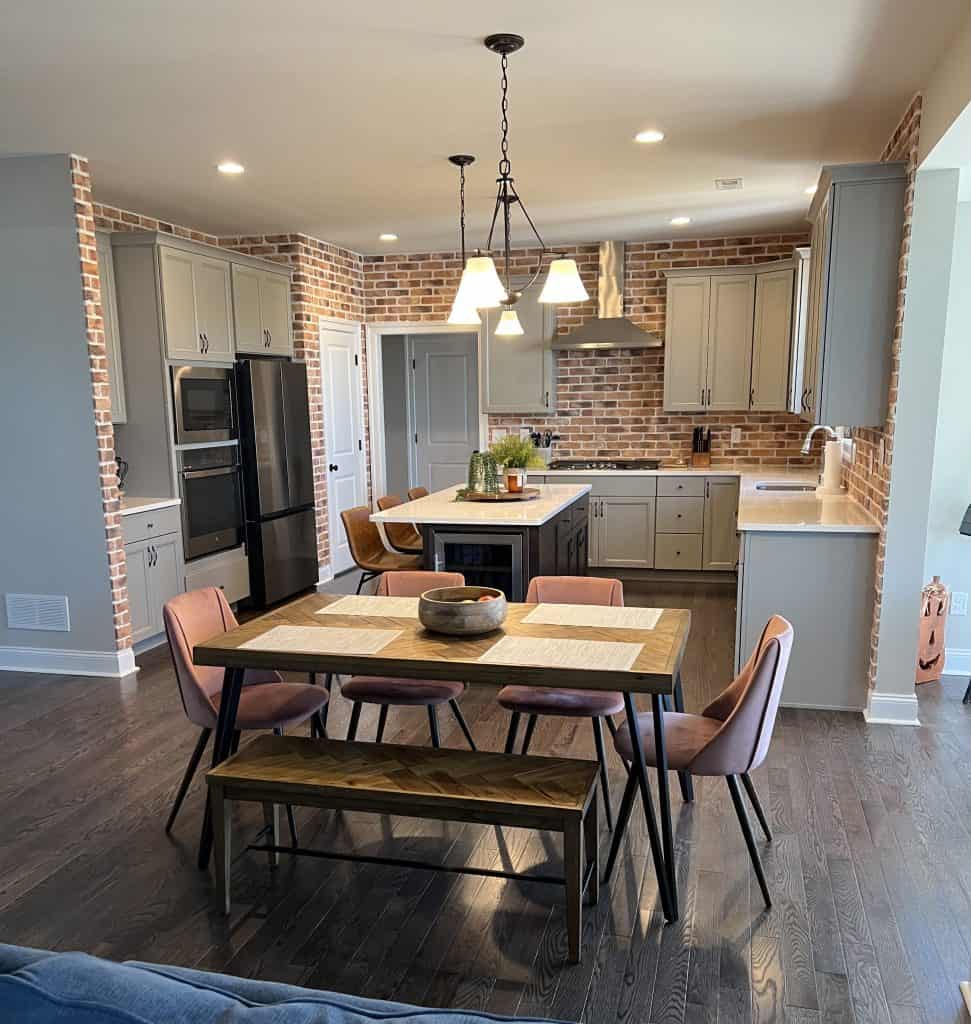 Should you install a brick wall in your home yourself?
If you're uncertain about the process or your schedule is full, you should let a professional install a brick wall for your enjoyment. Masons work with brick everyday, and they know how to properly install brick in a timely fashion. Installing a traditional brick wall shouldn't be attempted by someone without some construction skill and experience.
Even so, today's thin brick is very easy to work with. If you're the do-it-yourself type, read on for basic instructions on how to build a brick wall in your home.
Preparation and Supplies
A brick veneer wall can be installed over most hard surfaces. Thin brick can even be mounted on drywall if the drywall is securely fastened to the studs.
You'll first have to determine approximately how many bricks you'll need and select the style and type. Five bricks per square foot is the general rule with standard 7.5″ x 3.5″ bricks or bricks measuring 9.5″ x 2.75″.
Then you'll need:
Slow-setting tile adhesive like Thin-set
Loctite power grip
A narrow notched trowel
Mortar or pre-mixed mortar
A tile cutter
A tile spacer
Supplies and amounts will vary depending on the particular job, but those are the basics you'll need. Tape off the room and put a drop cloth down. The process of installing a brick wall can be extremely messy.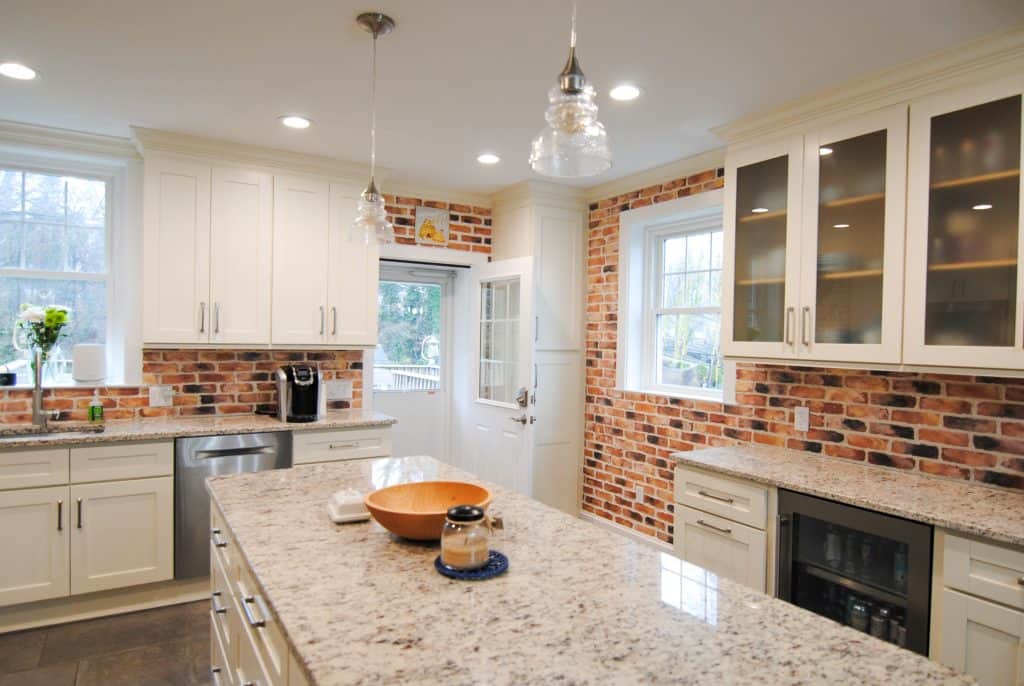 The steps to installing a brick wall
Lay the bricks against the wall to verify they will all fit without leaving a small silver piece on the end. Begin with a 1/2 brick if needed. (You'll need to cut some of the bricks to make them fit the space.)
How to cut bricks
The easiest way to cut bricks is to use a manual tile cutter. Mark where the brick needs to be cut. Line the markup with the scoring blade on the tile cutter.
Be sure to press firmly. Next press the flat part of the tile cutter against the brick. It should snap on the line where it was scored.
Mounting the bricks
Use a notched trowel to apply a thin set. Create a line pattern on the back of the brick to help prevent air bubbles. It also helps ensure even application to each brick.
Begin constructing the wall by lining the first row of brick on a level surface. Scrap or trim wood can be used to install a temporary straight edge if necessary – or use a bender board as a base to support the brick.
Place the first brick, pushing it into place. Apply acrylic Thin-set to the next brick in line, using a spacer tool, ensuring even spacing between bricks. Push the next brick into place.
(If you use a product called Brickwebb sheets as a base, the spacing is already done.) Fiberweb helps hold the bricks in place. If some bricks slide, use some Loctite power grip to secure them.
Continue the procedure for the length of the row, then place a spacer above the row and begin the second row, alternating the seams. That means if you began with half a brick in the first row, start with a full brick for the next row, and so forth. Alternate the bricks so each seam meets in the middle of the brick above and below.
The Thin-set should dry completely before you remove the spacers and apply grout.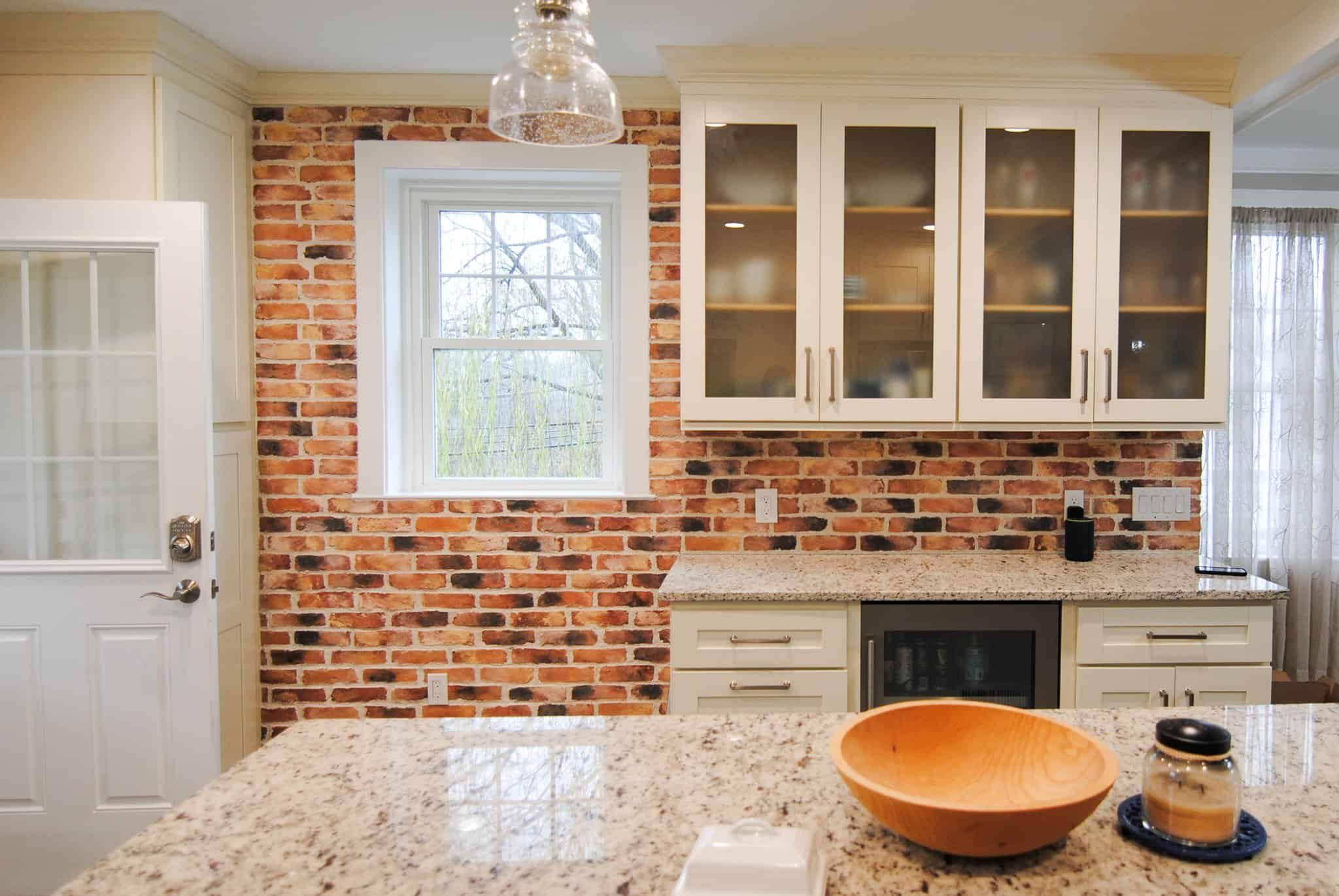 Thin brick gives you an authentic brick wall look without the work of laying full-size brick.
Applying the Grout
Mix the grout by placing less than 1″ of water in a 5-gallon bucket.
Add powdered mortar. Use a power drill and grout-mixing paddle to stir the mixture until it reaches the consistency of pancake batter. Scoop it into the grout bag when it reaches the proper consistency.
Applying grout between the bricks is like icing a cake. Apply generously so it sticks out from the brick. Let it dry for 10-15 minutes. Then take the end of a paintbrush or your finger in a glove to squish the grout into the seams of the bricks and knock off any excess.
Never use your bare fingers to press down the grout. If needed, apply more grout to the spots that are bare or chipped. Otherwise, to create a different, lighter look you can also use a sponge and wipe some of the grout onto the bricks.
Finishing the brick wall you installed in your home
You may want to enjoy the natural look of the brick you installed. Or you could apply a light white wash using a manufactured white wash stain, or white paint diluted with water.
You could also apply the grout in a way that creates a German Schemer impression, with a grout trowel and a sponge. Or you could paint the brick with masonry-approved paint. A solid white or all-black brick wall can look just as distinctive and timeless as a natural brick.
Need help designing or building a brick wall in your home in Main Line, Pennsylvania, or the surrounding area? Click the "Get a Quote" button to contact us.