Let's face it: While homeowners mostly focus on the interior design of their homes, they also desire luxury outdoor living spaces. Over the years, water features have become the go-to choice for homeowners looking to create a unique outdoor living space.
That said, your imagination is your only limitation when it comes to water feature designs. From cascading hardscapes and water fountains to bubbling columns and garden ponds teeming with goldfish and koi—water features can be designed in a number of shapes, sizes, and textures.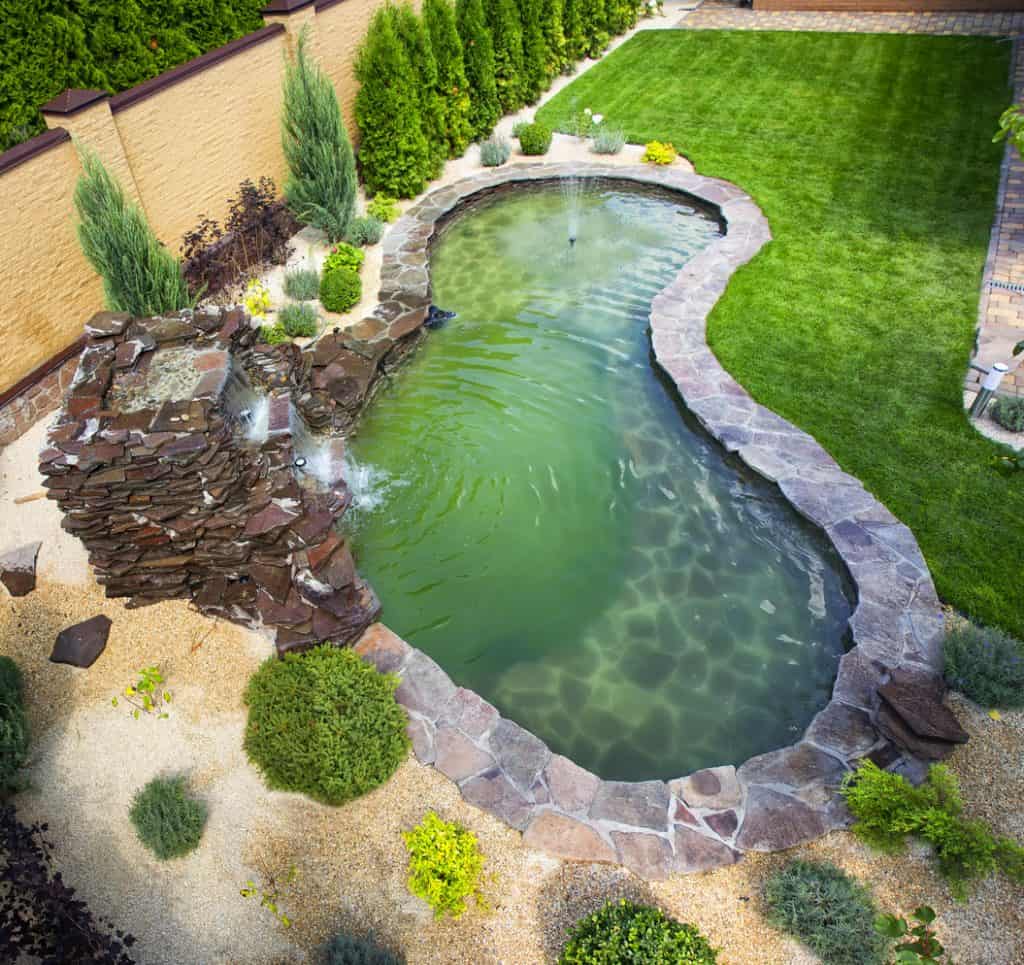 If you're considering building a water feature or pond in your backyard, one of the first questions you will want to ask is: how much does a water feature cost?
The cost of building a water feature varies depending on size, shape, setting, and the features you want to install. Whether you reside in a neighborhood of single-family homes, a townhome with a small backyard, or a large estate, Kelly Masonry can design and build water features suitable for any outdoor space and budget.
Here's a guide on how much a water feature costs to help you with your planning.
Water Feature Cost Installation: New and Renovated
Setting a fixed price for building or renovating a water feature is almost impossible, given that most clients opt to install add-on features to their ponds, such as fish caves, tunnels, or underwater lighting. The cost of building a new water feature or renovating an existing one usually depends on how much work you want to put into the project. Depending on the size and how much you want to put into building a base bond, the cost can range between $6,000 and $75,000.
The Cost of a Garden Pond
When you think of a garden water feature, ponds are one of the first things that pop to mind. Ponds create an elegant, natural space in your garden where you can immerse your thoughts and enjoy the relaxing sound of the trickling water. Ponds are also excellent options if you want to encourage more wildlife in your garden. You can expect visits from toads, frogs, insects, and even birds. You can even give some fish home in your pond.
Pond installation is relatively easy. The process basically involves digging a hole that has the right depth and is adequately sized, lining the hole with a pond liner. Finally, fill the hole with water. Suppose you want to customize your pond; you can introduce pumps, fountains, rockeries, and other decorative touches.
The cost of building a pond varies depending on size, shape, existing conditions, depth, and more. Typically, a small garden pond can cost as little as $600 and increase from there.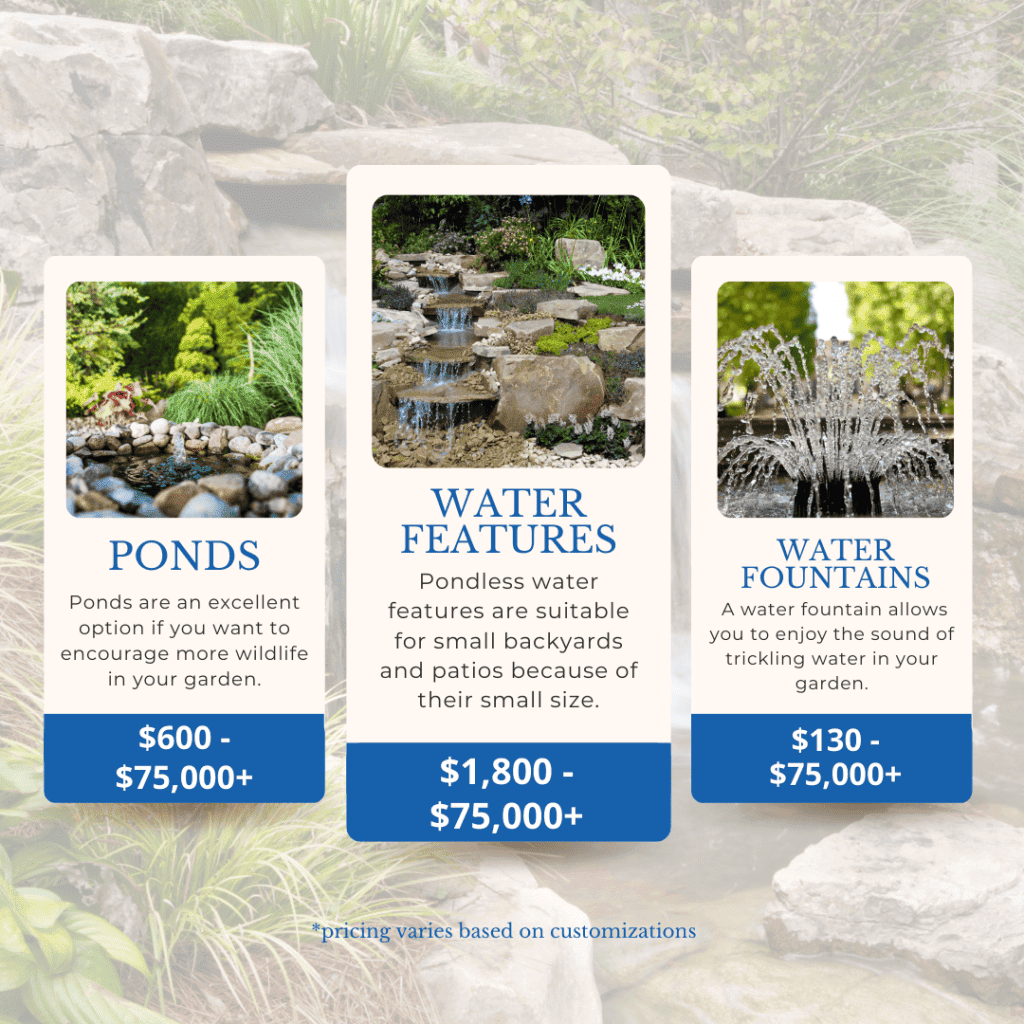 The Cost of a Pondless Water Feature
A pondless water feature uses pebbles and rocks to create a stream and waterfall. Instead of the water cascading into the pond, it flows down through the rocks. Upon hitting the bottom, the water is pumped back up and continually flows in this cycle.
Pondless water features are suitable for small backyards and patios because of their small size. It makes it possible for them to be included in sitting areas or tucked away into a small corner of the property, adding ambiance without taking up too much space.
Typically, our pondless water features are built by drilling out basalt columns or boulders to add a bubbling or flowing water feature. We then place the columns or boulders in a shallow-lined basin. Most pondless water features cost between $6,500 and $20,500. However, a basic pondless water feature can cost as little as $1,800.
The Cost of a Water Fountain
Suppose you have limited outdoor space; a water fountain could be a suitable water feature for you. A water fountain is an excellent option if you want to enjoy the sound of trickling water in your garden, no matter how big your outdoor space is.
Water fountains are available in a wide range of sizes and shapes. So you can be sure that you'll get the perfect fountain that complements your available space, garden design, and budget.
The cost of water fountain installation varies depending on various factors. Prices usually range between $1,100 to $7,500, with the national average cost being approximately $4,300. However, smaller fountains can cost as little as $130, while larger and custom-made fountains can be upwards of $70,000.
The Cost of Pond and Water Feature Cleaning
No one fancies walking outside and seeing a dirty water feature. Having a dirty water feature defeats the purpose of building one in the first place. Regularly cleaning your pond and water features can help ensure they are clean and clear. Seasonal maintenance is a crucial part of keeping the ecosystem of your water feature in balance. The cost of cleaning a pond, including smaller ones, usually starts at $990 but can be lower.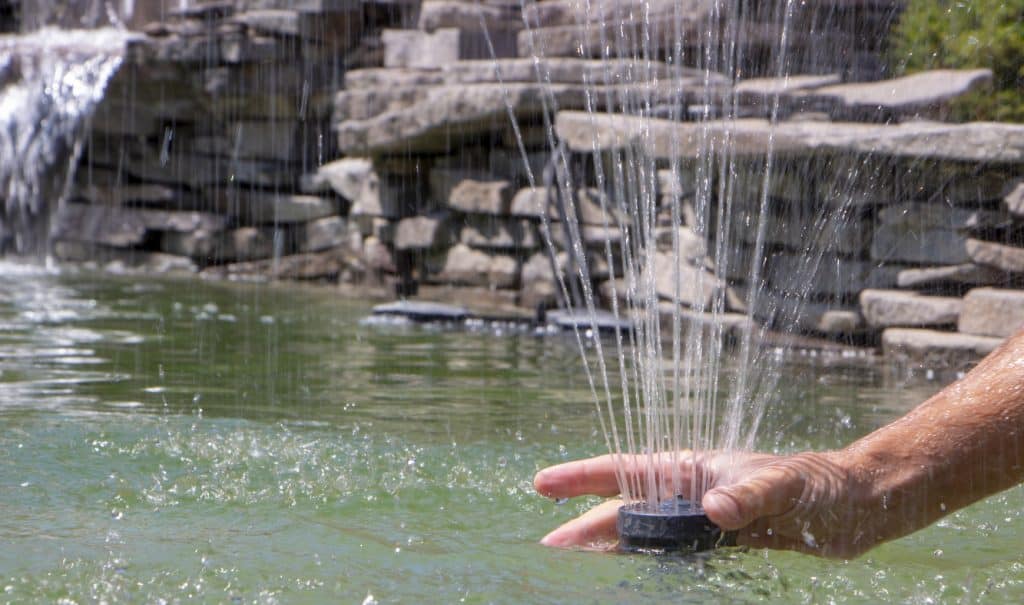 Tips for Hiring the Right Water Feature Contractor
Not all water feature construction companies can do a great job on your project. As such, before hiring a company to design and install your pond or water feature. Ensure you browse their portfolio and request that they provide you with examples and references of their work. Additionally, you should check online reviews and ask friends, families, neighbors, and coworkers if they can recommend a reliable water feature contractor. As a rule of thumb, you should only work with contractors with specialized experience in water feature design and building.
Wrapping Up
We are all drawn to water. Picture the sound of cascading hardscapes, bubbling columns, or gurgling garden ponds. The sound of water soothes us by making everything seem more tranquil. Regardless of the type you choose, adding a water feature in your outdoor space can be an inexpensive way to create serenity and luxury while benefiting the surrounding ecosystem.
If you're unsure of which water feature best suits your outdoor space, you can rely on us to clearly explain the different types and let you know how much water feature cost.
We Offer Financing
Ready to transform your outdoor space into your luxury retreat? Kelly Masonry can help. We create breathtaking water features and other outdoor living space designs for residential and commercial properties in Villanova, Wayne, Swarthmore, Gladwyne, Bryn Mawr, and surrounding areas.
Not sure if you can afford the upfront cost of designing and building your dream backyard? We offer financing options! Click here for more information about financing your project and contact us today about adding a water feature to your outdoor space.