If you want to upgrade your outdoor living space, there are fewer projects that are more functional and give a better return on investment than an outdoor kitchen. Not only do they add to the aesthetic look of the backyard, but they also create a place for the family to come together and make memories. You likely have questions about how an outdoor kitchen works and the cost of this home upgrade, so allow us to answer some of your questions.
What Is an Outdoor Kitchen?
An outdoor kitchen has varying degrees of complexity, from a simple grill set up with some storage to a complete cooking area, including a dishwasher. Unlike your indoor kitchen, an outdoor kitchen has to contend with mother nature, so there are extra steps to ensure that it looks great and appliances are protected. One of the easiest ways to do this is by building masonry around your appliances to protect them from anything the outdoors has to throw at them. The nice thing about masonry is that it works in any climate, and when done correctly, it will last for generations.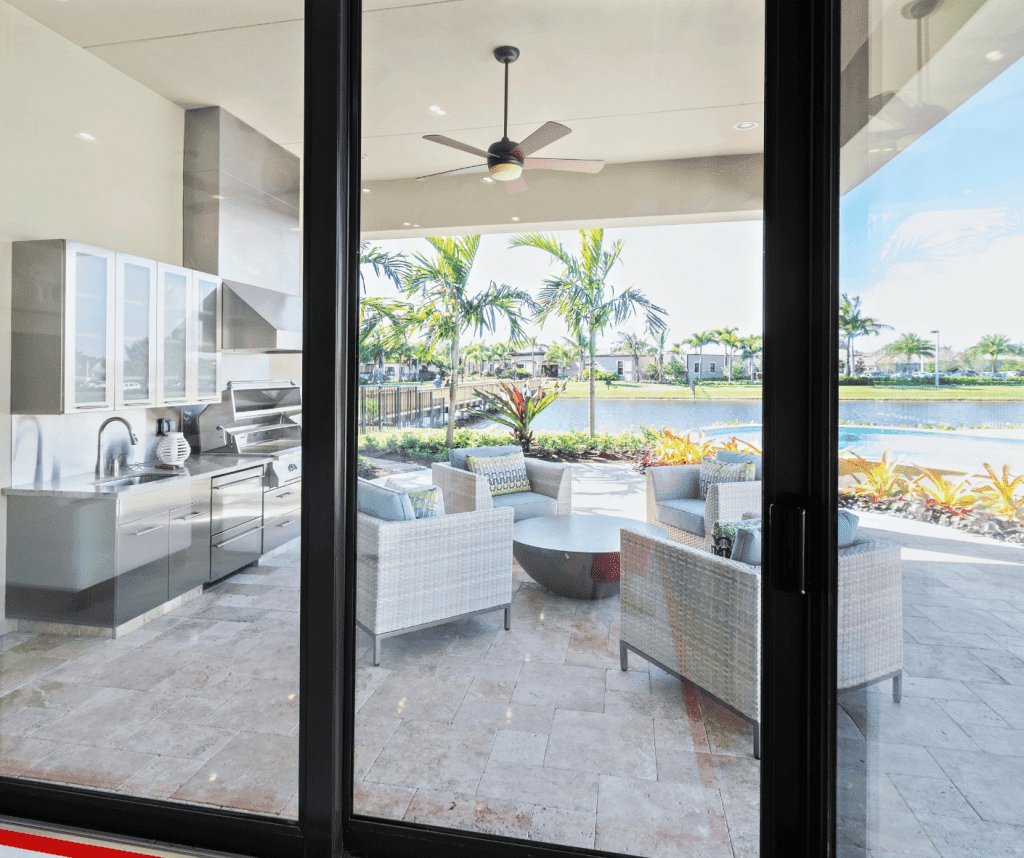 What Are the Benefits of an Outdoor Kitchen?
If you are on the fence about whether an outdoor kitchen is right for you, consider all of the tremendous benefits you get from this upgrade.
Outdoor Benefits
The ability to cook outside lets you get food on the table while enjoying all the benefits of being outside, like fresh air and vitamin D from sunlight. Between the beauty of nature and the beauty of your masonry, you will find that cooking outdoors is a more relaxing and enjoyable experience.
Expand Your Space
An outdoor kitchen often doubles as a dining room and sitting area, so adding one to your backyard space increases your entertainment area and makes it easier to entertain guests.
Double Cooking Area
It doesn't just double your sitting area; it doubles your cooking area. So, when you have a dinner party or family is over for the holidays, you can cook twice as much in half the time.
Save on Utilities
Cooking inside the house heats it rapidly, which is excellent in the winter but not so good in the hotter summer months. Cooking outside during those months reduces rapid increases in your home's temperature, giving your air conditioner a break.
Increase Home Value
Beautiful, legacy masonry will make your home more aesthetically pleasing, adding curb appeal and increasing the intrinsic price in today's competitive market. In addition, just like any other home renovation, it will increase your home's base value.
Prevents Cooking Odors
Aroma is an amazing part of the cooking and eating process, but some foods can leave odors in the house long after being cooked. Preparing these dishes in an outdoor kitchen allows them to dissipate outside.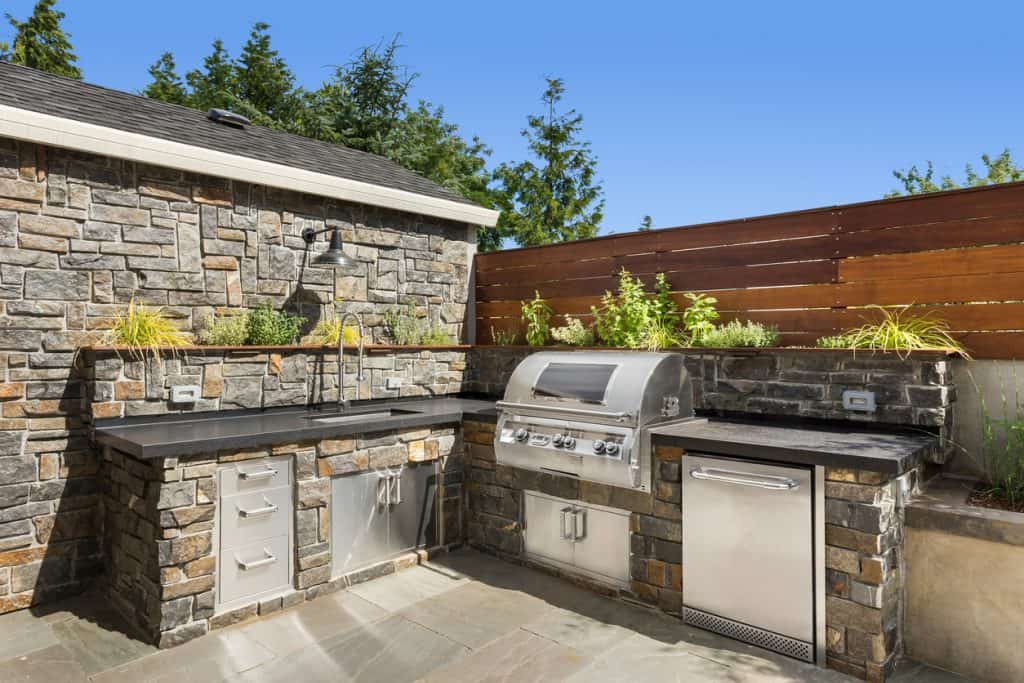 How Much Does an Outdoor Kitchen Cost?
Like any home improvement, the cost of installing an outdoor kitchen depends on many factors, so there is no exact answer. For an exact quote, reach out to us for a consultation, but if you are looking for a ballpark idea, consider all of these things will affect the cost of your outdoor kitchen.
Material Cost
In all likelihood, the more durable the material is, the more it will cost. The good news is that with building materials, you get what you pay for, so a higher upfront cost will likely pay for itself in the long run in longevity.
Size
The size of your outdoor kitchen will play a significant role in the total price of your installation. Bigger jobs require more materials, so the price will be higher.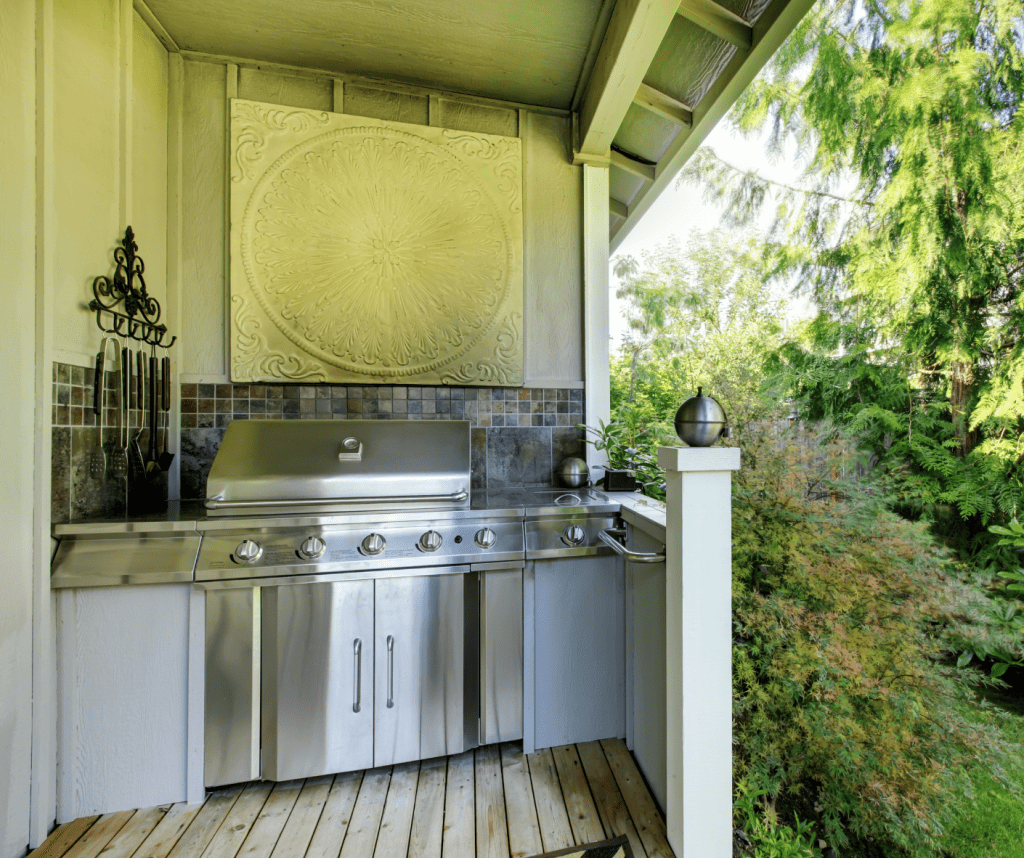 Price of Appliances
Depending on your tastes, appliances can be a place to save some money. You don't have to have all the bells and whistles that modern appliances do, especially considering that this is a second kitchen; however, it is probably a good idea to stick with stainless steel exteriors for look and function. You can also choose to forgo some appliances to cut a little from the budget.
Labor and Permits
The lion's share of the cost of installing an outdoor kitchen comes from the cost of permits and labor. Installing the perfect outdoor kitchen that is both gorgeous and safe takes years of expertise, but the price is worth the finished product.
Geographic Location
Where you live can play a small role in the total cost of installation.
Total
Considering all of these factors, you can see why the price varies so much. An outdoor kitchen installation can cost as little as $5,000 to more than $25,000. Since your options are limitless, luxury add-ons can increase your cost up to $100,000. The national outdoor average for an outdoor kitchen installation is just under $14,000.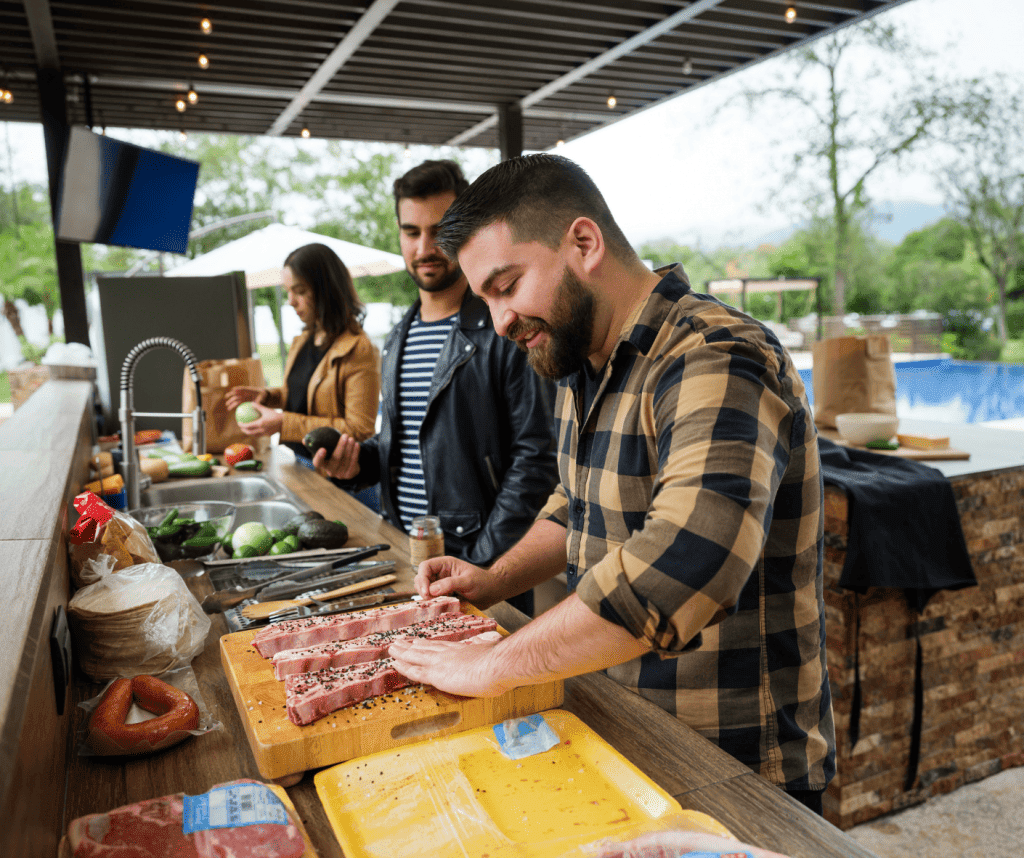 Why Hire a Professional?
You may be wondering if installation is a significant portion of the cost; why not do it yourself? First, an outdoor kitchen is a big project and often requires heavy machinery that you must be trained to use. Secondly, masonry experts like us often get better material prices since we are buying in bulk versus on a per-project basis, so what you save in labor you may spend on material costs. Lastly, you get years – in our case, twenty – of experience dealing with all kinds of outdoor masonry projects. After twenty years of greatness, there is not an outdoor masonry project we haven't seen or a problem we haven't conquered.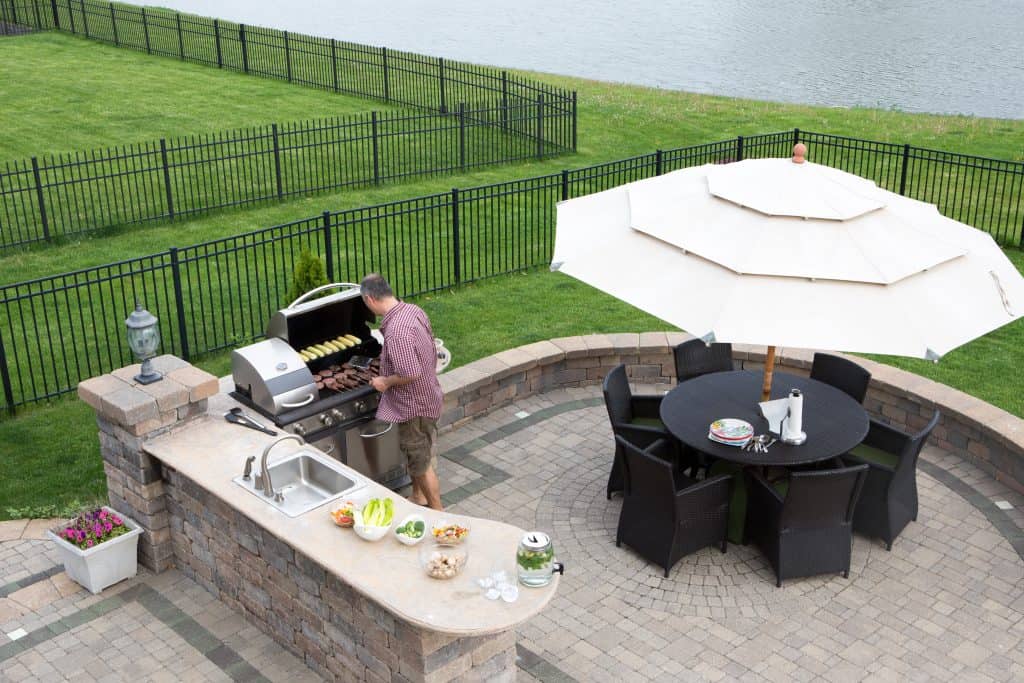 Call Us Now
Don't wait until you are throwing a party to wish you would have got that new kitchen installed. Instead, contact us today to set up a consultation so we can start building the outdoor kitchen of your dreams. We guarantee that you will love your outdoor kitchen because our favorite part of the job is seeing your face the first time you set eyes on your new space. Whether you need more room to cook and entertain, or you are just looking for a way to update your space, an outdoor kitchen ticks all the boxes and will become your favorite part of your house.