Yard drainage problems are one of the most frustrating outdoor issues encountered by most homeowners. If you have improper yard drainage, you might be experiencing various yard drainage problems. But how do you prevent damage caused by yard drainage problems?
Understanding possible causes can help homeowners avoid yard drainage problems and water-related property damage. Here are five main reasons for your soggy or flooding yard and ways you can prevent flood damages due to yard drainage problems.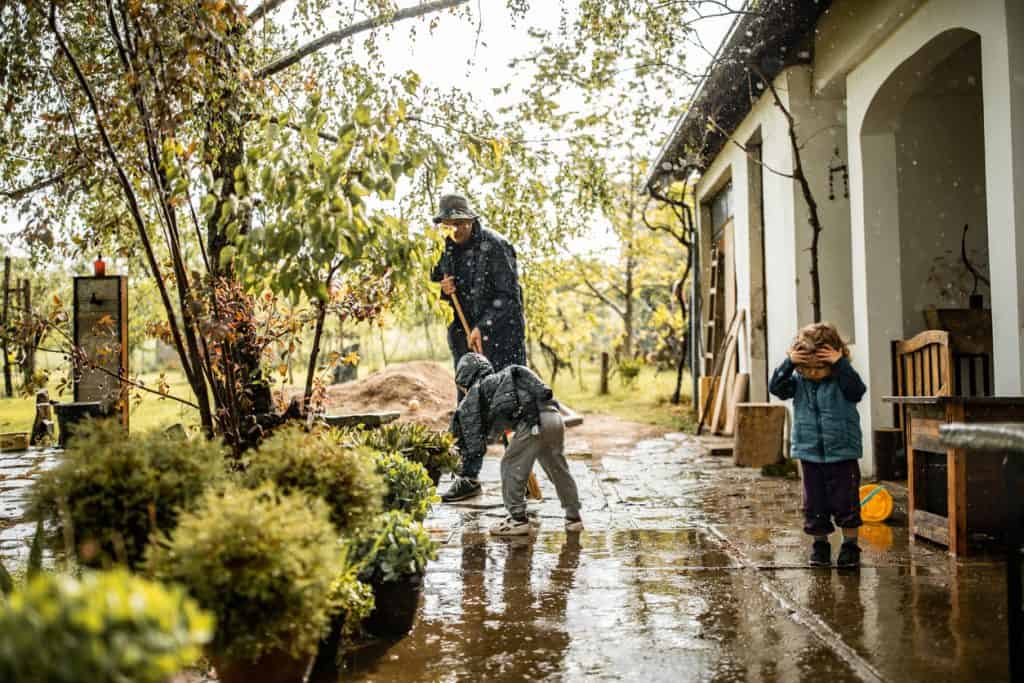 Poor Elevation of Your Foundation
One of the most prevalent issues homeowners often encounter is water being held up in a home's foundation. The slope of your yard will determine how and where the rainwater will drain, making it an essential factor to consider if you want to prevent your yard from damaging due to floods.
When water stands still in your yard, it can be disastrous to your house's interior finishes, including wood floors, and contribute to your foundation's failure. You can avoid such problems at the initial stages of house construction by simply elevating the slab to attain a proper slope away from your home.
Solution: Improve Your Yard Landscape Grade
If the yard lacks adequate slope for efficient drainage, water can pool up in your yard or even build up around your house's foundation, putting your home at risk. Grading your yard to create a place for the water to flow can help keep the water away from your foundation.
Rain Gutter Spouts
Another common yard drainage issue arises when gutter downspouts are not correctly addressed. During a rainstorm, water that rushes through the rain gutters and out the downspouts can quickly run off your property, if not causing floods in your yard.
If your gutters empty rainwater into bed areas and oversaturate plant materials or dump vast amounts of water on your paved surfaces, you'll encounter drainage problems. Poor yard drainage can flood your patios and walkways or lead to the backing up of water into your basement.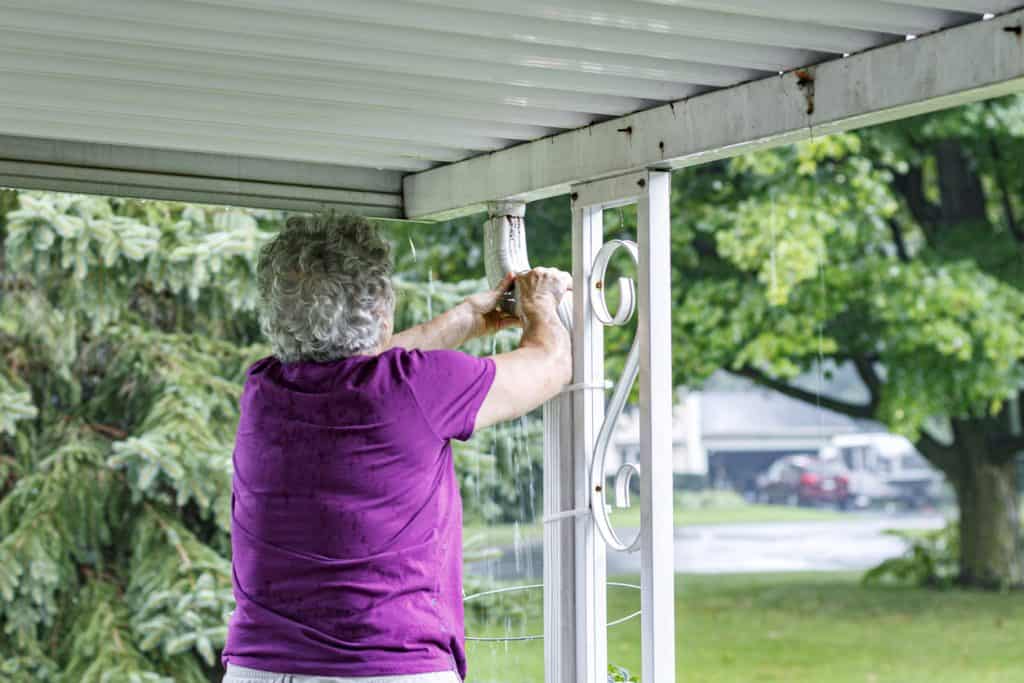 Solution: Divert the Rainwater Spouts Underground
The best way to address gutter spouts is by being mindful of where your gutters pour water and diverting the water away from your house. You can safely reroute the water through a French drain. A French drain is a perforated underground pipe that helps collect and direct surface water. They offer a relatively easy method to move excess water from pooled areas in your yard to a curbside storm drain.
Installation of a French drain involves digging a trench starting from a low-lying area to your street and inserting a pipe into a bed of pea gravel in the trench. Consider a flexible tube to help you customize the configuration of your drain as needed to help maneuver around any permanent object in your yard. Once your pipe is in place, you'll cover the pea gravel with soil and grass.
Poor Drainage
Poor drainage can easily turn your yard into a swamp, especially with vast snow melting at the end of winter or during heavy spring rains.
Heavy periods of precipitation are often unexpected, but if you're in an area that receives heavy rain and piles of snow, it helps to ensure that rainwater is appropriately dealt with by having a drainage system in your yard.
Solution: Install a Dry Well
While there are several methods you can use to drain water from your yard to avoid prevalent yard drainage problems, one of the main solutions is installing a dry well. If your yard has poor drainage and your property easily experiences flooding relatively quickly upon heavy rains, you might need one or even more dry wells.
Dry wells are positioned in low-lying areas to facilitate the collection of water. The excess water is collected in buried tanks and released into the soil. Most dry wells are approximately three feet deep and can be filled with gravel or left empty. However, bear in mind that many localities require a permit for dry well installation.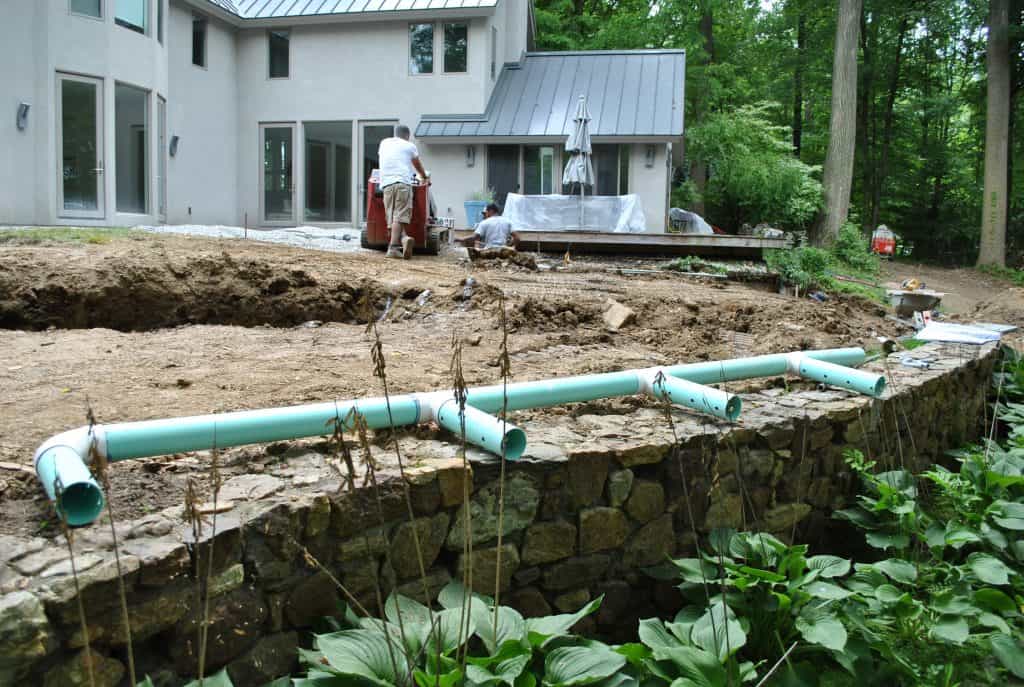 Paved Surfaces
Another significant cause of yard drainage problems includes having paved surfaces without installing a proper drainage system to carry the water off your yard. Your hardscape surfaces, such as the pool deck, terraces, driveway, and walkways, need a proper slope or drainage system to avoid flooding.
Solution: Install Retaining Drains and Walls
Retaining walls and drains help combat flooding and prevent damage from yard drainage problems. They prevent water from accessing sensitive areas by channeling it into stream beds or dry lakes. Structures like retaining walls are best when installed by an expert that knows how to determine the best solution for your yard drainage issues.
Erosion Caused by Water Run Off
Some drainage problems can cause erosion in your yard, especially where there's an excessive downspout of water emerging from pipe openings or daylights. Erosion is often paramount on bare soil or soil with poor conditions because it erodes faster, forming depressions or trenches holding water. The result is scattered and ugly patches of land that could turn into oceans when it rains heavily.
Solution: Install a Dry Creek Bed or Use a Sump Pump
You can provide a better place for the rainwater to go by installing a dry creek bed that allows the removal of stormwater from the surface. Creek beds are often ornamental in design and can be used to add some aesthetic value to your yard.
But in extreme cases where you can get the water off the surface using gravity, you can opt for a mechanical option to help you evacuate the water using a sump pump. Sump pumps can offer a fail-safe method for draining the "wells" holding water.
Get Professional Help From a Landscape Design Expert
The best way to prevent drainage problems in the future is to hire a professional landscaper or hardscaping contractor to properly assess your land before installing any sort of softscape or hardscape projects. Any good mason or landscape designer will tell you their job isn't just about making your home's exterior look stunning, it's also about making it functional and durable.
Contact us to discuss how we can ensure your patio or walkway stays flood-free. Our experts will help you inspect and diagnose damages as well as offer a long-lasting solution.