When it comes to outdoor living spaces, there are a lot of options to choose from. You can go with a traditional patio made of brick or flagstone, or you can opt for a more modern deck made of wood or composite materials. So, which is right for your home?
The answer depends on a number of factors including your budget, the climate in your area, and the level of maintenance you're willing to do. Keep reading to learn more about the pros and cons of patios and decks so you can make the best decision for your home.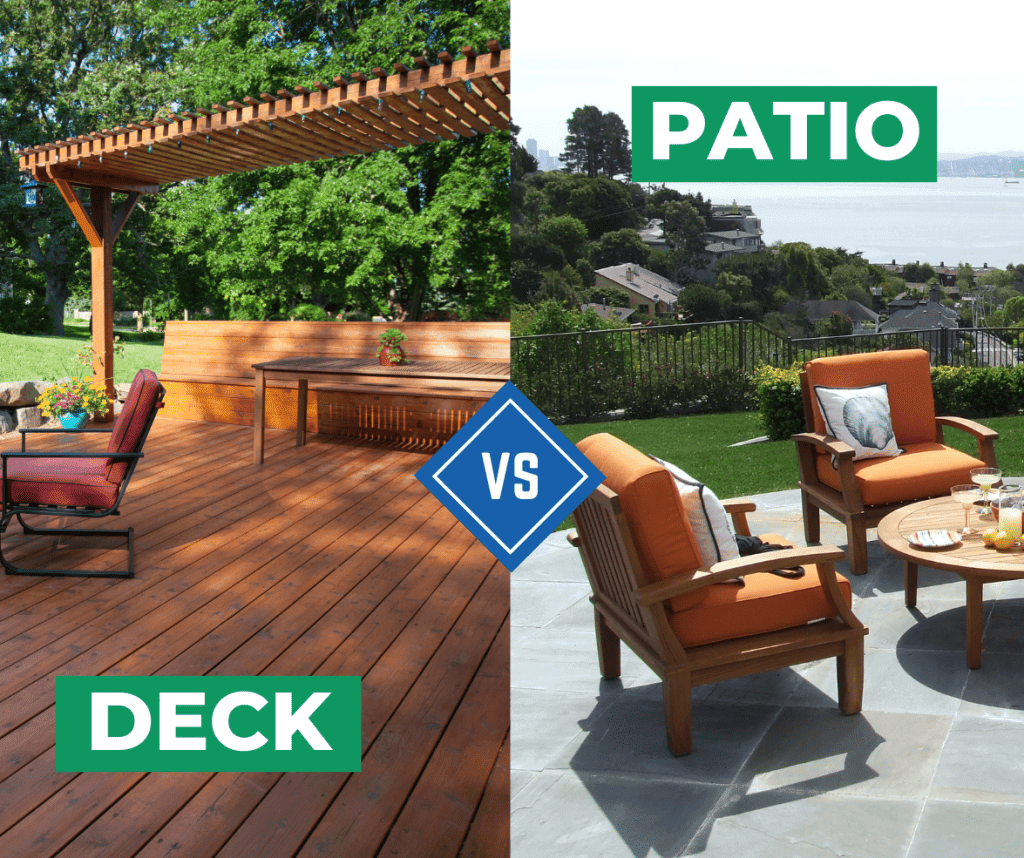 Defining Decks and Patios
Before we start weighing the advantages of decks vs. patios, let's define what we mean by both terms.
First, what is a deck? A deck is a flat surface that is raised off the ground and is used for outdoor activities such as entertaining, relaxing, and sunbathing. A deck is usually made of wood or composite materials and is often attached to a house or building. Decks can be simple or complex, small or large, and can be customized to fit any need or space.
What is a patio? A patio is a paved outdoor area, typically adjoining a house, used for recreation and entertainment. Patios are typically made of concrete, stone, or brick. A patio can also be paved with asphalt, gravel, or other materials.
Considering your Home's Style
One of the first things to consider when deciding between a patio and deck is the style of your home. A traditional brick, flagstone or concrete patio often looks better with a classic home, such as a Colonial or Victorian home. Similarly, a wood or composite deck is often a better match with a more contemporary home.
If you're having trouble deciding, you can always find samples of different materials to see which looks best with your home's exterior.
Evaluating your Budget
In addition to considering your home's style, you'll also need to think about your budget. The cost of a patio or deck can vary greatly depending on the size, material, and type of construction. Of course, pre-constructed decks are often less expensive than custom-built patios, but the cost can add up quickly depending on the type of material you choose.
A cement patio is always cheaper than a paver or flagstone patio. Wood or composite decking is comparable to installing a paver patio, but pricing always depends on the design.
To learn more about patio pricing, click here.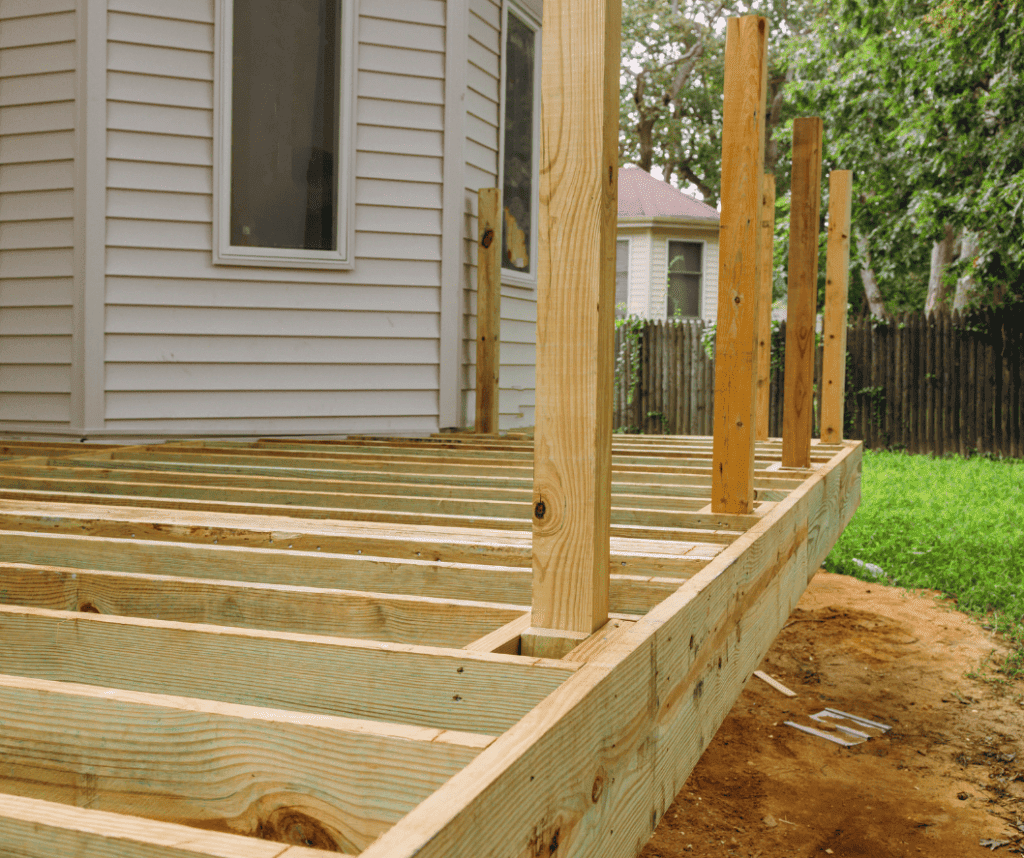 Deciding what Activities You Want to Do
Another factor to consider when deciding between a patio and a deck is the kinds of activities you're planning to do. If you're mostly planning to use the space for entertaining, then a deck may be the better option, since it allows you to move around more freely and provides more space for seating. However, if your plans include activities like planting a garden or cooking, then a patio may be a better choice, as it provides a more stable and durable surface.
Decks may be built over the ground, allowing for more space in your backyard. If you have a two-story home, a deck can create levels to your outdoor living space. But since decks are elevated, they do have weight restrictions that patios do not. Patios may allow for more privacy as they are built lower to the ground. With carefully planned landscaping, patios can integrate seamlessly with your shrubs and create a grounded retreat.
Factoring in Maintenance
Both decks and patios require regular maintenance, but the costs can vary depending on the materials used. For example, a wooden deck will require more upkeep than a concrete patio. Wooden decks need to be stained or sealed every few years to protect them from the elements. Alternatively, concrete patios only need to be sealed every few years. Also, if you have a deck with a lot of furniture or a patio with a fire pit, you'll need to factor in the cost of regular cleaning and inspection.
Patios typically last longer than decks, depending on the materials used. A well-designed flagstone patio can last decades if properly maintained. In contrast, decks are prone to rot over time. They may also fade as the years go by if not treated.
Patio or Deck ROI
When deciding on a patio or deck for your home, take into account the return on investment (ROI). Your choice of materials plays an important role in cost. For instance, flagstone can offer a more luxurious look than plain concrete but also has a heftier price tag. Factors such as curb appeal and market resale value can help offset the costs.
Numerous sources suggest that decks show around a 75% higher ROI than patios. So if there's an initial $9,000 build-cost for the deck compared to $3,500 for the patio, then potential additional resale value could be $7,500 vs. one of only $1,500 respectively. Investing in these improvements can ensure greater profitability when selling your home.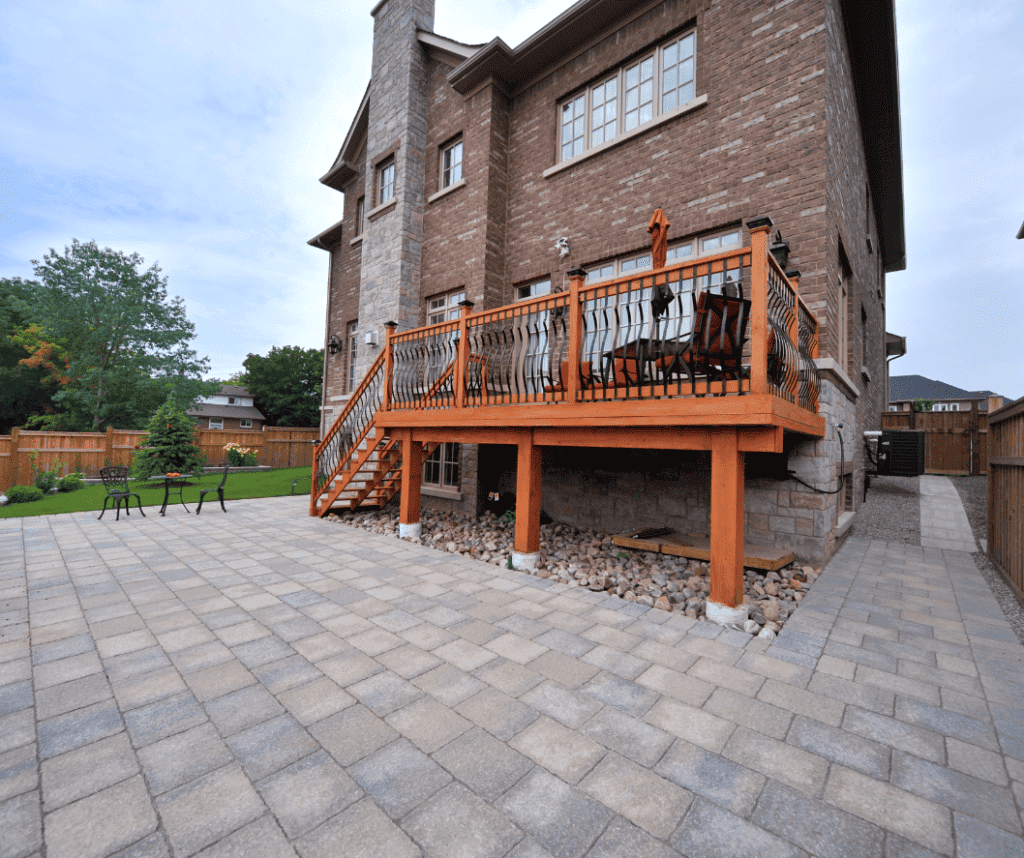 Why Not Both?
Maximizing your backyard potential is often accomplished through an amalgamation of both patio and deck elements. Not only will this arrangement ramp up your living space horizontally, it'll also increase verticality. Having a deck situated higher than the patio creates multiple functions in the same usable area. Homeowners often separate the two by how they primarily use them – for instance, have intimate family dinners on the deck and entertaining parties on the patio! It's worth noting that you may want to utilize both spaces at once when hosting large gatherings.
So, What's the Verdict?
Ultimately, the choice between a patio and a deck boils down to a few factors: the style of your home, your budget, the activities you plan to do, the ROI, and the level of maintenance you're willing to take on. If you take these factors into consideration, you should be able to make an informed decision and find the perfect patio or deck for your home.
Need help designing your backyard? Let us help! Click here to receive a text message directly to your phone. You'll be able to record and send us a video of your yard. Our team will review your video and discuss options over the phone. From there, we'll schedule a site visit and start the design process!
For a quick review, watch our video summary: