Wondering how much it costs to hire a landscape designer to create the backyard you've been dreaming of? If you're serious about recreating your yard, finding a good landscape designer is the first step to achieving this goal. You may be just starting out, or you may have already thought about what you'd like to incorporate in your backyard design. Either way, it's always a good idea to start budgeting your project so you know what you can afford to build. Let's learn about landscape design cost nationwide and locally in Main Line, PA.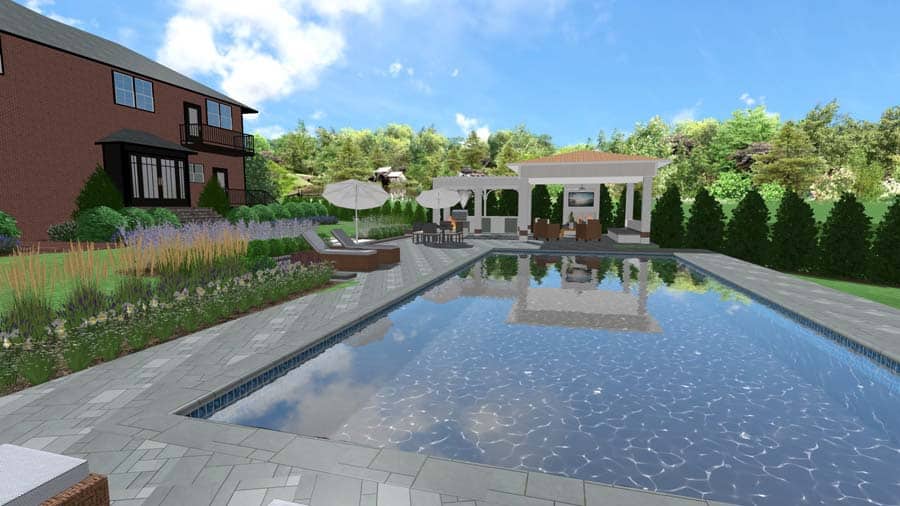 What is a Landscape Designer?
A landscape designer plans and creates exterior living spaces that can include hardscapes and softscapes. These designs may be 3D renderings, concepts and build plans that include patios, decks, shrubs, flowers, walkways, trees, etc.
You might hire residential landscape designers as freelancers, part of a landscape design business, or within a larger landscape or hardscape contracting business. At Kelly Masonry, we have our own landscape designer who works in tandem with our masons to create the perfect outdoor living space. That means the landscape design cost is included in our overall estimate.
If you're not sure you need a landscape designer for your project, check out this post for reasons why we think you should consider one.
What You'll Get with a Landscape Designer
All of this sounds great, but what are you really paying for when you hire a landscape designer? Typically the landscape designer you hire will meet you on site for an initial meeting. They'll walk around your yard with you and discuss your options. During this meeting the designer may take measurements and generate a map of your space for you.
After your meeting (or meetings, depending on the scope of your project) the designer will provide you with a preliminary design. Usually at this phase the designer is hoping to get feedback from you so that they can be sure they're on the right track. Don't be afraid to tell the designer what you like and what you don't like. This is your chance to create your dream yard with a professional who can really bring it to life, so don't hold back!
Once you've talked over the concept, the designer should be able to complete your final design. Make sure this includes a detailed list of materials you've agreed upon, such as plants or masonry materials. Some designers may also provide 3D renderings of your design so you can better picture how the design will look in your yard.
How Much a Landscape Designer Costs
The national average cost of a landscape designer is $2,204 to $6,182. Luxury outdoor living space design in large yards can cost upwards of $10,000. Landscape design cost is dependent on the size of your project as well as the skill level of your designer. If you would like to see your design in 3D form before you begin building, it may cost a little extra for your designer to create these renderings as well.
At Kelly Masonry our design costs start at $2,500 for simple designs. We offer 3D renderings of your designs as well. We've found that seeing your design via a 3D image can really help the overall design process and ensure you're getting exactly what you want.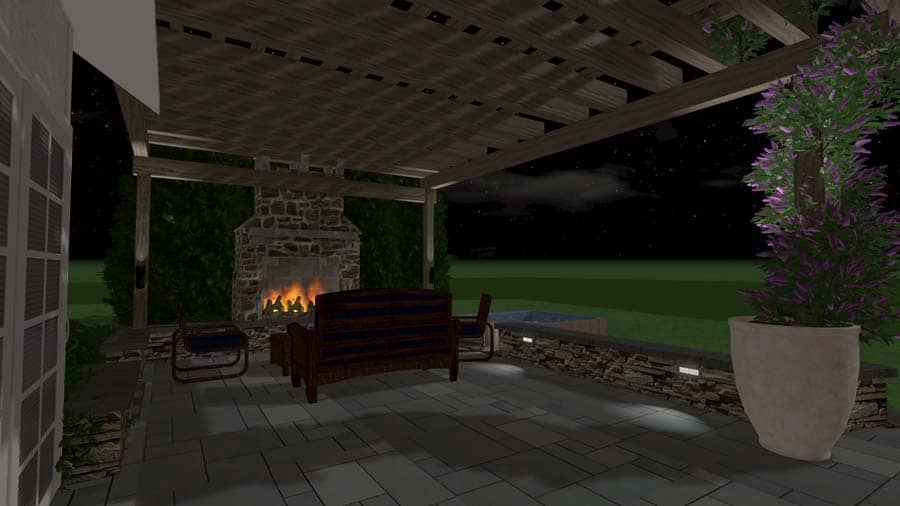 How To Get Started
Now that you know what a landscape designer is, what they do, and how much they cost, it's time to decide if you're ready to hire one. Even if you're not sure how you want to reinvent your yard, a landscape designer can begin the process of offering applicable ideas. Search for local landscape/hardscape companies in your area to get a sense of what each contractor can offer you. You can always work with an independent landscape designer, too.
If you're in the Main Line area, go to our contact page and fill out your information. You'll receive a link to upload a video of your yard directly from your phone. Once we receive your video we'll give you a call to discuss ideas with you.
Check out our other blog posts: