Clients often ask us: what is an outdoor living space?
This Is The Outdoor Living Definition And A Glimpse Of How We Design Them For Our Clients In Delaware County, Chester County, And Montgomery County, Pennsylvania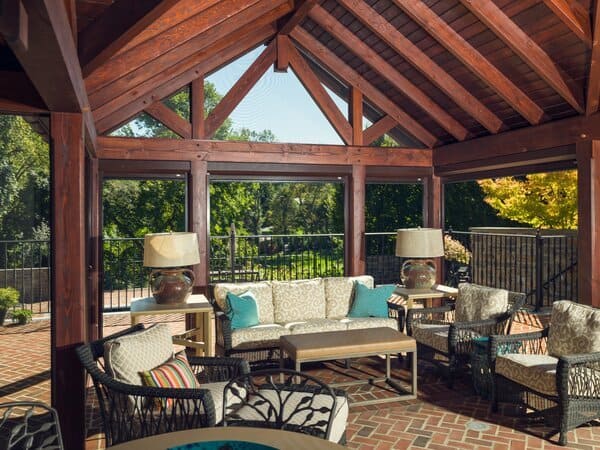 It Sounds Nice, But What Is It?
"Our patio isn't big enough," grumbles Josh.
Nicole looks over at him as she sips her morning coffee. "Big enough for what?" she asks. "It can fit 4 people, just enough for a double date," he points out. "But what if we want something bigger? Or better? Our patio isn't looking that great either," he complains.
Nicole shifts in her seat. "Yeah, you're making some good points. What do you have in mind then?" Josh smiles. "I found something really neat I know you'll love. It's called an outdoor living space."
Nicole frowns. "What is an outdoor living space? Do you know how to create an outdoor living space?"
Josh hands her his phone. "Here, this may do a better job answering your questions than I can. Then I'll show you what they say an outdoor living space costs."
Here's what Nicole sees:
What Is An Outdoor Living Space?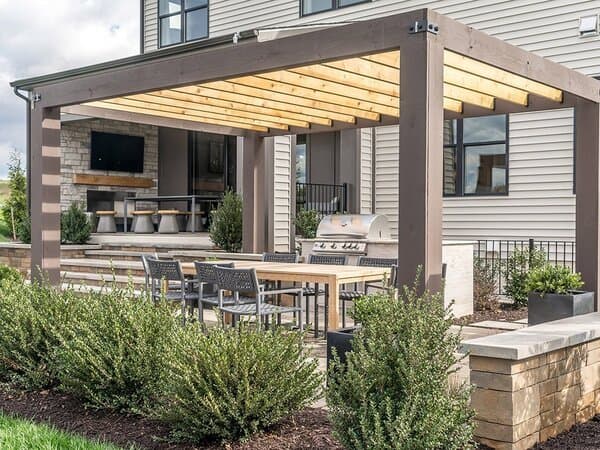 The definition of an outdoor living space is an area that extends your home lifestyle outdoors. It's a combination of wood and stone structures in your backyard near a focal point with plantings and other landscape features. You can also get upgrades like a television, speakers, lights, and more.
You can use your outdoor living space to enjoy the comfort of your home inside the beauty of your yard.
What To Consider When Designing An Outdoor Living Space
There are a few things to think about when designing your outdoor living space:
1. What's the function of the space? Is it a pool area for the kids or a luxury lounge area?
2. Consider the style of your home and ensure it matches the style of the outdoor space you're considering
3. Determine the flooring options available
4. Think about the focal points you'd like to create
We encourage you to draw examples of what you're looking for. It makes it easier for you and any designer to envision. Feel free to contact us, we'd love for you to use our expertise when designing your perfect place!
How To Build An Outdoor Living Space
1. Build The First Stone Or Wood Structure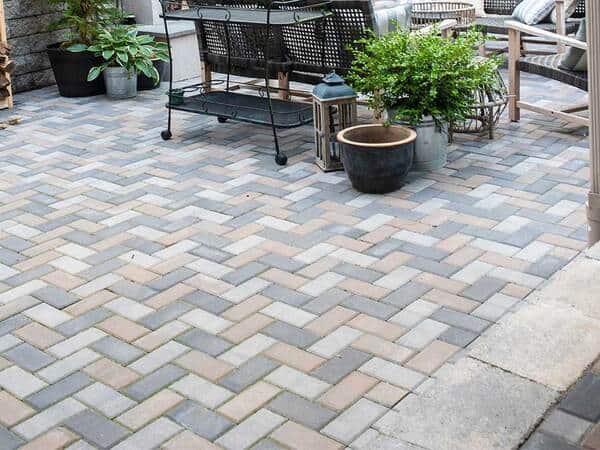 When you choose the first structure it'll be made out of stone or wood.
The main stone structure is a patio. You can put a wood pergola or roof over it to complete it.
The main wood structure is a deck. You can put retaining walls for seating around it or a fire pit or fireplace on it to complete it.
2. Build A Second Structure Of The Other Material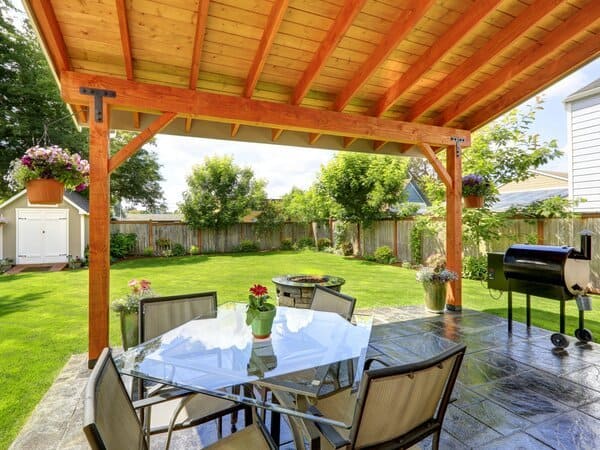 This is the part of creating an outdoor living space that'll complement the first wood or stone structure.
For example, if you built a patio then you can put a pergola on it or a wood roof structure on it. Or, if you built a deck you can put a fireplace on it.
3. Install The Focal Point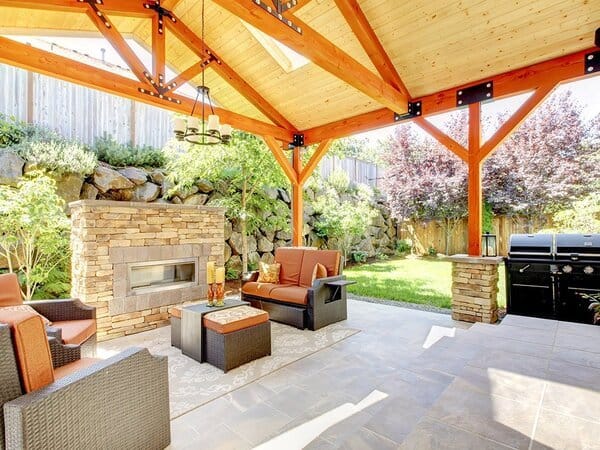 The focal point is what will draw the eyes of everyone who comes into your outdoor living space. You could say it's an entertainment piece.
Focal points can be many things, including a water feature, statue, natural area, pool, and more.
4. Landscaping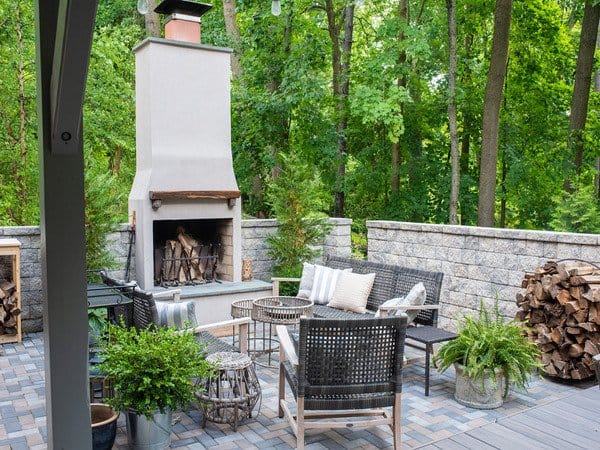 Outside of having a natural area as your focal point, landscaping helps fill out your space.
It's not much of an 'outdoor space' if it doesn't have some beautiful plantings.
Upgrades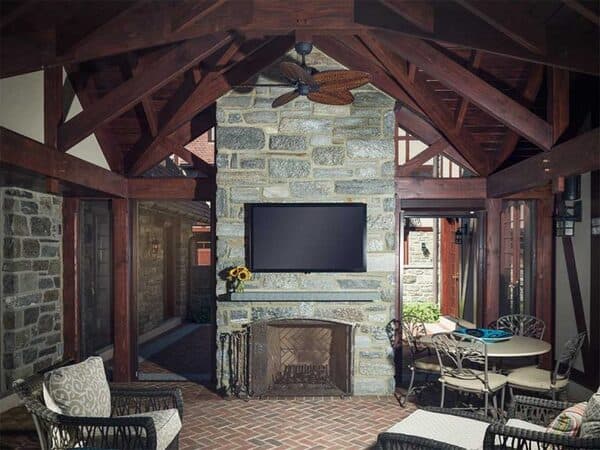 This mostly happens when building the stone and wood structures, but can happen afterward.
Upgrades are ways you can make your space even more beautiful and enjoyable. Common upgrades clients ask us to include are:
An outdoor kitchen
Integrated TV & speakers
Landscape and water feature lighting
Pictures Of Outdoor Living Spaces
These are projects our clients in and around Delaware County, Chester County, And Montgomery County, Pennsylvania have had us bring to life in their homes: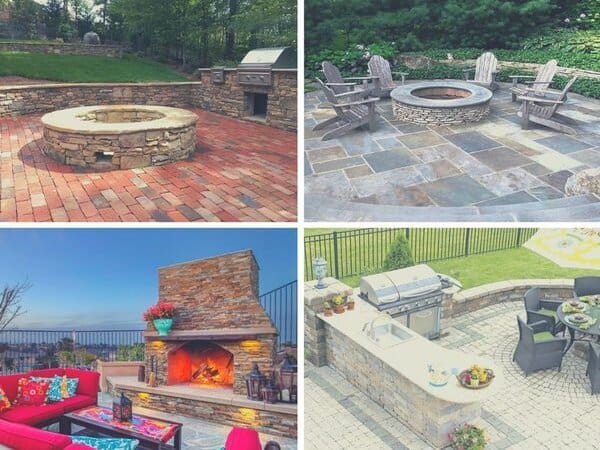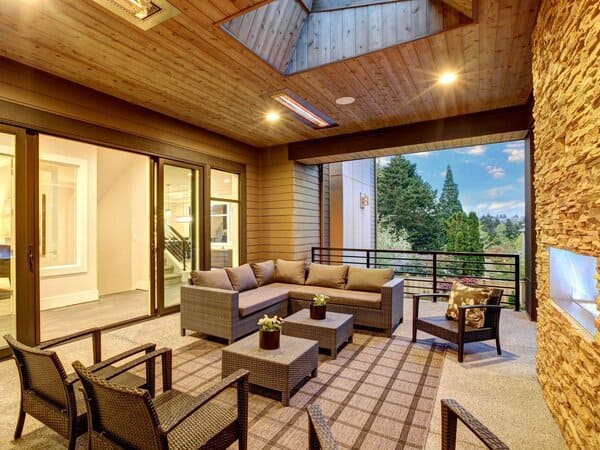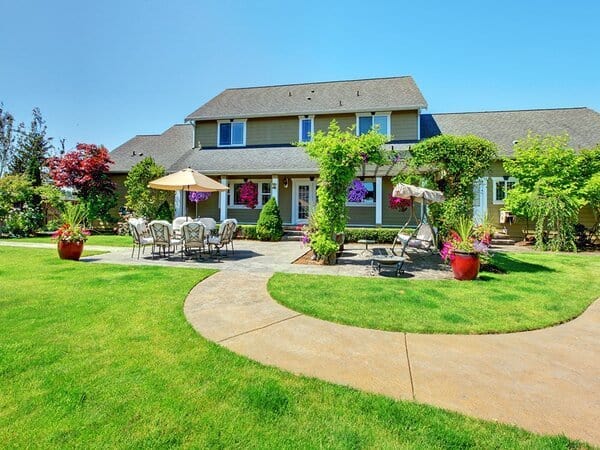 You can look at our gallery page for more.
You May Also Like To Know
"This would be perfect for us!" says Nicole excitedly. "It's definitely not a DIY project but we can at least do the drawing part they recommended." Josh grins. "You bet we can! Let's keep looking around this blog while we talk about ideas."